News and Information from
Camp Tintype
---
Contents and What's New
2015 Jamboree - July 31, August 1, 2 <<< Well, it's over, but photos are starting to come in.

New Announcement <<< Exhibition of John's work at Gerald Peters Gallery.

2015 Workshop Student Photos <<< Now arriving

A NEW VIDEO is now posted <<< John pours a mammoth plate at the 2014 Jamboree

Horse Hairs in My Soup - eBook series by John Coffer <<< A preview of Chapter 12 is now posted.

2016 Workshop Information <<< 2016 "All-around" Workshop dates announced.

2016 "Just Tintypes" Workshop Information <<< 2016 "Just Tintypes" Workshop dates announced.

Portraiture At Camp Tintype <<< Updated information posted - October 2014

Tintype Gallery Updates <<< Portraiture at Camp Tintype samples added - October 2014

Myth Busters articles <<< Three new articles posted - March 2014

Brief Overview of the Wet-Plate Process <<< Scan of a letterpress handout

Manuals and DVDs Now Available <<< ** See note regarding hand-written version of Doers Guide **

Wet-Plate Collodion Follow-Up Kit

Contact Information

Biographical & Camp Tintype Information


---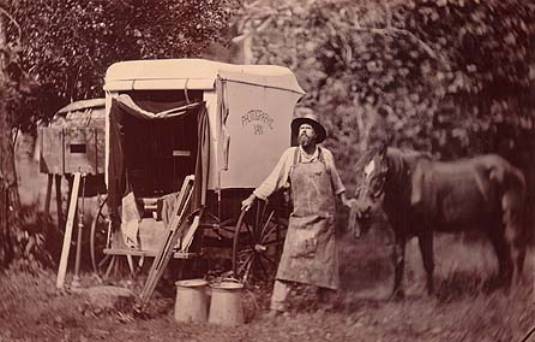 John Coffer and his old traveling horse, Brownie, at Camp Tintype.
Albumen print from a wet-plate collodion negative. ©2001 by John Coffer.
---
Announcements
Exhibition of John's work at Gerald Peters Gallery

From September 10 to October 9, 2015, an exhibition entitled "A Different Perspective: Creating Outside The Box" will be held at the Gerald Peters Gallery in New York City. Works by several artists will be shown, but the show will focus on works by John. For more information, you can view the press release of the announcement here or go to the Gerald Peters Gallery website using the "Links" section to the left.
Introducing: Portraiture at Camp Tintype

This a new service now being offered by John at Camp Tintype. For a detailed description and pricing, click here to go to the web version or click here for a printable PDF version of the announcement.
Gear for Buy, Sell, or Trade

John has an 1860's T. Ross No. 2 CDV lens that he would like to buy a mate for, or trade for a fine Petzval lens. If you are interested, please contact John.
---
2016 Workshop Information
---
NOTE: These regular, all-around workshops fill quickly. Often over a year in advance. Do not delay in registering for one of these popular classes. You will not be disappointed.
---
BONUS FOR 2016 Workshop Students
All students will be given at NO EXTRA CHARGE an original 1850-60ís Ambrotype/Tintype case of their choice to put their own work in or to keep as is with the original 19th century image in it. An assortment of cases in the 16th, 9th, and 6th plate sizes will be available. They will all be in restored and totally functioning condition. We at Camp Tintype believe that Historical Process Photography should at least give a tip of the hat to its historical roots.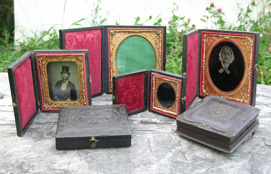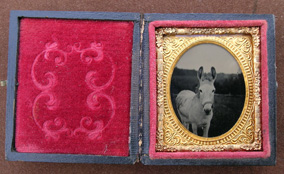 CONTINUING IN 2016!
Every workshop and tutorial student will be receiving the following two books at no extra charge, courtesy of Lindsay Publications, Inc.:
The Ferrotype and How to Make It, by Edward M. Estabrooke
Quarter Century in Photography, by Edward L. Wilson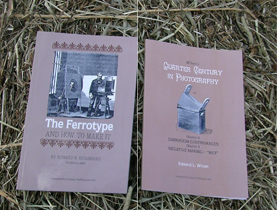 ****************** Now in our 21st year of teaching wet-plate workshops! ******************
Featuring three solid days of hands-on training in the making of:

AMBROTYPES, FERROTYPES (Tintypes), GLASS PLATE NEGATIVES,
ALBUMEN PHOTOGRAPHIC PRINTS.
2016 Regular All-Around Workshop Dates:
June 9, 10, 11
July 7, 8, 9

Tuition:
$950.00 per student...No lab fees!
A $250.00 deposit is required to secure enrollment.


---
Policy on Deposits for the Workshops:
The usual $250 deposit is required to hold a workshop spot for a student. It is refundable only if I can fill that spot with another student before workshop time. Absolutely no exceptions. Also, full payment of the rest of the tuition fee must be made 30 days or sooner before the workshop scheduled date by check, money order, or cash, just like the deposit. And also, just like the deposit, it is not refundable unless the workshop spot can be filled before workshop time. I regret this hardcore approach to the business side of the workshops, but after a couple of student no-shows, a no-show demanding his deposit back, and a rubber check in '09, I have no choice. You can only write so much off to the cost of doing business and I'm not the kind to drag people to small claims court or haggle over the filthy lucre. -JC
---
EARLY BIRD SPECIAL!

If you send in your $250 deposit before January 1, 2016, you will
receive a 10% discount on any workshops offered in 2016.

Full price after that.
---
Includes a comprehensive manual with instructional DVD set.
All materials and equipment provided.
FREE CAMPING!
Each student will receive "The Doers Guide", a complete, 165 page, fully illustrated workshop manual covering the entire wet-plate process, including the making of albumen photographs. Manuals can be purchased separately for $75.00 ppd. USA, refundable toward workshop tuition, and includes DVDs (4 hours total). The DVD set is available separately for $45.00 ppd. Contact John Coffer by regular mail for details.
Don't delay - class size is limited to only 4 students
For details and registration, write:
JOHN A. COFFER
1236 DOMBROSKI RD.
DUNDEE, NY 14837-9443
NOTE: Private tutoring is also available for $750 per day as to your schedule and individual needs. I have more than 33 years experience as a professional wet-plate collodion portrait photographer and am well prepared to teach you the correct time honored methods that work consistently and the best. -JC
---
EXTRA! EXTRA! Free Play Day!

For those taking the above beginner/intermediate wet-plate collodion in-the-field workshops, you are invited to stay at no extra charge an extra day! You may shoot wet-plates with our gear and supplies to your heart's content. We have found over the years that after the third day of the workshop, all the students have the routine down pat and are chomping at the bit to keep right on shooting fun images around the farm. You may even shoot plates as large as 8x10 (limited in number) if you like.

Also, remember that students are encouraged and welcome to check in the day before the workshop officially begins to settle in if they are camping, but also to look over the wet-plate gear we will be using, or have us look over any potential wet-plate gear they care to bring along for evaluation or would like to try to shoot with. Further, be it known that workshop days are very full at Camp Tintype. When the sun shines we make wet-plate hay, and after supper we usually varnish plates and mix some chemistry into the night. In short, if you are seeking as much wet-plate bang for your buck as you can get, look no further than Camp Tintype!
---
2016 Just Tintypes Workshops
---
NOTE: 2016 dates now available! See below.
Be aware that these workshops often fill up well over a year in advance, so don't delay to register.
---
The popular "Just Tintypes" workshops are a continuing favorite
If wet-plate tintypes are what grabs you the most, this is the workshop for you. If you are an experienced wet-plate photographer but want to specialize in tintypes, this workshop will put you on the right path. If you are a total beginner but don't see yourself doing anything but tintypes for the foreseeable future, there is no better way to start off with learning wet-plate than with making tintypes.
THE MAMMOTH PLATE OPTION is back in 2016 for "Just Tintypes" workshop students only!
Yes, itís true! Take any of the 2016 "Just Tintypes" workshops or tutorials and get a chance at shooting a 20Ēx 24Ē MAMMOTH! I have found that after the third day of my tintype workshops that a significant number of my students are ready and able to take on a Mammoth. All that you will have to provide extra is a $350 lab fee. This will allow you to shoot two 20Ēx 24Ē plates. So, how do you know you are ready? If you can shoot a decent 8x10, you can do this. Personally, I have been shooting 20Ēx 24Ē wet-plate collodion Mammoths since 2002. The first ever Mammoth Ferrotype Tintypes were shot here. Since then my Mammoths remain unchallenged and have been exhibited by prestigious galleries from coast to coast. So, you couldnít have a more experienced Mammoth plate teacher. We will work together in and out of my new walk in darkroom booth to ensure you will perform all the steps properly. For this first Mammoth Plate experience, we will be using the extremely easy and convenient Black Trophy plaque aluminum plates (AKA aluminotype or alumitype). With these ultra easy beginner plates it becomes mere childís play, except for using lots and lots chemicals! Itís a great way to top off an unforgettable Camp Tintype workshop experience. No other workshop in the world could or would dare to offer this incredible opportunity! -JC
Note: You are responsible for the packing and transport of your Mammoths. I will not pack them and ship them for you. I suggest that you send a suitable box and packing materials ahead of your arrival if you plan to do this exciting option.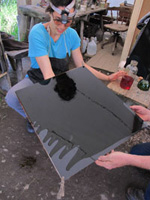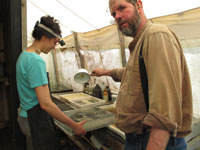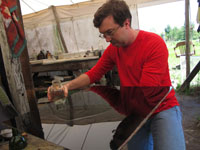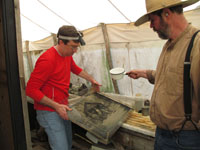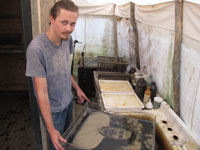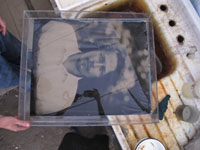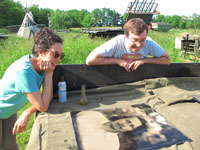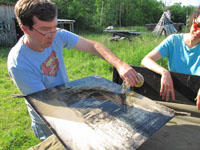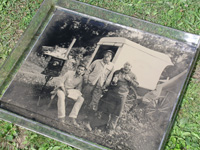 The Pretty Big Plate Option
If Mammoths seem just too big a leap or you would like a stepping stone up to them youíll love this option. For only an extra $150 lab fee you can shoot two 11x14 Aluminotype Tintypes. 8x10ís are an option for any student who cares to try that pretty dang big plate size at no extra charge.
"Just Tintypes" workshops dates for 2016
2016 Just Tintypes Workshop Dates:
May 26, 27, 28
June 23, 24, 25
August 11, 12, 13

Tuition for 2016:
$900.00 per student...No lab fees!
A $250.00 deposit is required to secure enrollment.
This class is sure to be productive and exciting!
We will be shooting both authentic Ferrotype tintypes, as well as the popular peel and pour, non-authentic (but great for practice) aluminotype tintypes, in sizes up to 8" x 10". Everyone will get a chance to black japan their own plates by the original baked on asphaltum paint method. Hand coloring will be practiced on plates of your choice for spectacular image results. Stereo tintypes and round badge tintypes will also be a couple fun options. Without a doubt more plates will be shot in this workshop than any other!
FAQ - Can I make a couple of ambrotypes in the "Just Tintypes" workshop?
Glad you asked! Sure, you can. Lots of students have and you can, too. And at NO extra charge! After you get the hang of making Tintypes, it's just a matter of a few minutes of further instruction on how to prepare a glass plate. Then you'll be good to go to pour an ambrotype.
Class size is limited, so register soon.
To sign up for this unique class, write to:
John A. Coffer
1236 Dombroski Rd.
Dundee, NY 14837
---
Manuals and DVDs Now Available
---
AUTHOR'S NOTE: This manual has cost me way more money than it's made. Why? Because itís so utterly thorough and complete. And especially so, with its three and a half hour instructional DVD set included with it! Many a would-be wet-plate photographer has bought it, taught themselves the process, then gone onto making award-winning wet-plate images without ever setting foot in my workshops or anyone else's, for that matter. That said, do keep in mind that a workshop experience at "Camp Tintype" is something beyond just a workshop. It is a life changing experience. -JC
---
The Doers Guide to Wet-Plate Collodion Photography, plus complete DVD Set
The Doers Guide to Wet-Plate Collodion Photography manual, with the complete DVD set, is now available for $85.00 ppd. (Canada cost is $100.00 ppd. and overseas cost is $125.00 ppd.) $75.00 if bought at "Camp Tintytpe"

The Doers Guide and Complete Wet-Plate Instructional DVD Set cover all aspects of wet-plate photography, including chemical mixing, managing, and maintaining.
You have a choice between a hand-written (xeroxed, of course) or computer-typeset manual (Please specify)

** NOTE FROM JOHN: The hand-written version of the Doers Guide will get a major re-write and update later this Fall and Winter and is no longer available until then. The typeset version will continue to be available. -JC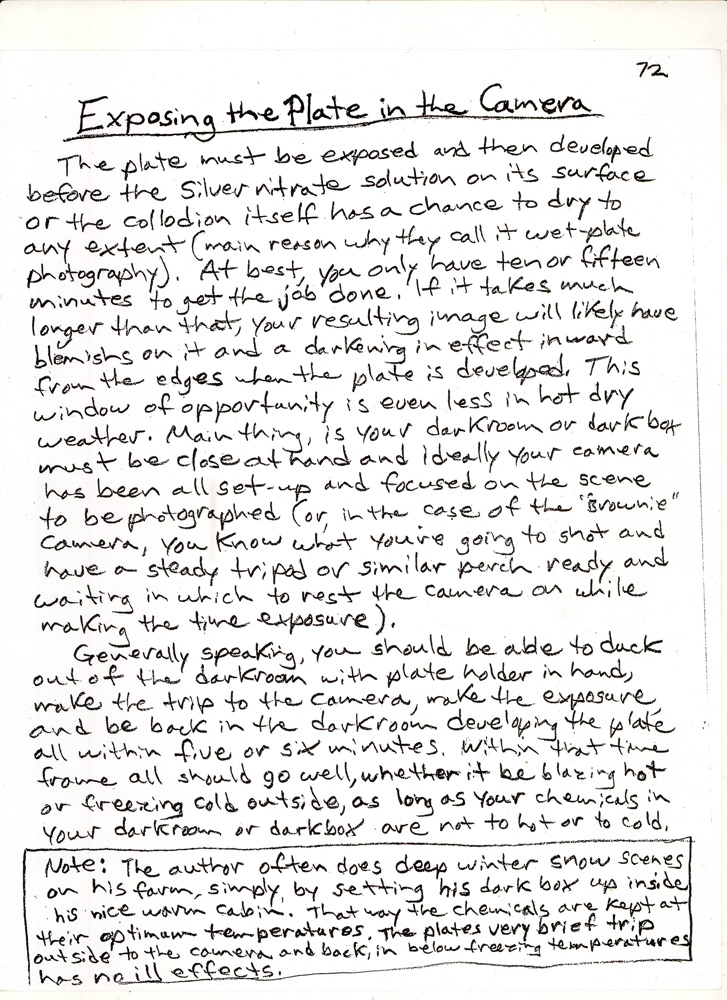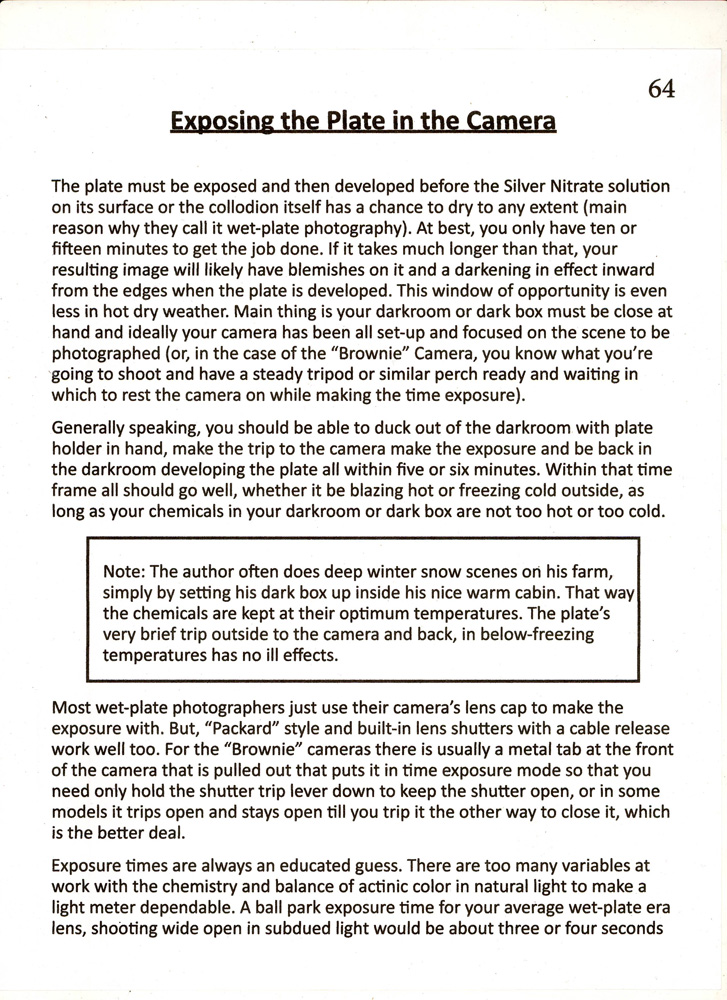 Please note the following payment information
Payment for U.S. orders may be by check, cash, or money order.
Payment for foreign orders must be by international money order, cash, or U.S. check.
Money sent from overseas via Western Union cannot be accepted.
To order any of the above material, write to:
John A. Coffer
1236 Dombroski Rd.
Dundee, NY 14837
---
Your Wet-Plate Collodion Follow-Up Kit
Finally, a reliable kit for the beginning wet-plate workshop student
You are now able to take this home for an uninterrupted flow of wet-plate fun!
For only $385.00, this kit includes the following:
500 mls of ready to pour Ol' Workhorse Collodion.

One liters worth of Potassium Cyanide Fixing solution.

One liter of Ferrous Sulfate Developer ready to use.

500 mls of Silver Nitrate Bath Solution all ready to sensitize your plates.

200 mls of Gum Sandarac Varnish.

Two sheets of 12"x24" "peel & pour" plates ready to cut down to whatever sizes of positives you want to make.

100 mls of Calcium Carbonate glass cleaner.
This kit is only available to workshop & tutorial students at "Camp Tintype"
No other workshop or tutorial anywhere offers this extra service. Yet another reason why "Camp Tintype" workshops are the Best!
Black acrylic silver baths also available
We will be selling sturdy, well-made, black acrylic 5x7 silver baths for only $50.00 to workshop students ... only this year!
---
Jamboree 2015 - July 31, August 1 and 2
The 2015 Jamboree is over

But watch here for John's final roundup of the 2015 Jam. Meanwhile enjoy the photos that are starting to roll in. Jamboreers, if you have any photos or scans of your plates that you would like to see on John's website, please email them to the Webmaster.
Jamboree 2015 Update - July

Look up in the sky! Itís a bird! No, itís a plane! No, itís Steve Hane's digital camera drone. Between shooting wet-plates on the ground, Steve hopes to get some aerial shots and videos of this yearís mega Jamboree. Also, up in the sky will be this yearís guy on the tee shirts, namely old man ďSolĒ, the sun. Itís all about natural light photography at Jamboree 2015. The use of natural light needs a re-awaking in the wet-plate community. Furthermore, to help encourage waning in the field of wet-plate photography, I will be giving a demo on how to make water-house stops for your old lenses. It was all about stopping down real small for those great landscapes in the 19th century. Why not today? If any one else has something along those lines they would like to demo or give a talk about, let me know. Nuts and bolts information is where itís at here at Camp Tintype.

If anyone is commercially selling wet-plate stuff and would like a little free advertising to a very targeted audience, we can always use more donated prizes for the Saturday afternoon raffle. Individuals are welcome to donate any extra wet-plate related items as well, to help further support and encourage the annual Jamboree.

Mike Jacobson of Artcraft Chemicals continues to be a great supporter of all things Jamboree. He will again be providing a fine catered dinner for all attendees on Saturday. Be sure to put your orders in now for chemicals so Mike can bring them to the Jamboree for you, and save you a bundle on postage.

The usual rules of the road apply: No illegal drugs, No binge drinking, No nudes, and No raw beginners looking for a free tutorial.

Again we will be shooting our muzzleloaders on the gunnery range Sunday afternoon. Bring your trusty smoke pole and think safety on the range.

Sally Mann will definitely be here this year to pass out free autographed copies of her new book, if she reads this and decides to come. Now that alone is worth the pilgrimage to the 14th annual Jamboree!

See you soon!! -JC
Jamboree 2015 Dates Announced

The 2015 Jamboree will be July 31, Aug. 1 & 2. Stay tuned for further updates. -JC
For more information and authorization to attend the 2015 Jamboree, please write:
John A. Coffer
"Camp Tintype"
1236 Dombroski Rd.
Dundee, NY 14837
---
Contact Information
E-mail address:
Click here to email John

Please note that since John does not have Internet access at Camp Tintype, all email sent here will be printed and mailed to John once every couple of weeks. To receive a reply from John as soon as possible, please include your mailing address in the email. It will be faster to write him a letter at…
Mailing address:
John A. Coffer
1236 Dombroski Rd.
Dundee, NY 14837
---
Biographical & Camp Tintype Information
"Camp Tintype"
is the best known and longest running learning center for wet-plate collodion photography in the world. It is the creation of its founder, John Coffer. Its humble beginnings started in 1978, when John hitched a bay workhorse named "Brownie" up to a 19th century style darkroom wagon dubbed the "Photographic Van" and criss-crossed the continent for seven years, plying his trade as an old time traveling portrait photographer. This was an experience as unique as the many tintypes and prints from glassplate negatives he made and sold along the way.
Having started out using commercially available, at the time, dry plate tintypes and glass negatives to make his living, he eventually was able to glean enough information from historic archives and gather up the necessary chemicals from different sources, that by 1982, he was able to do the much more desirable wet-plate collodion process. That spring, he immediately began making wet-plate collodion Tintypes (the real Ferrotype kind), ambrotypes, and glass plate negatives for his patrons, as he camped on field and farm and small town back lots along his way.
In 1985, after more than 11,000 wagon miles and having passed through 36 different states, John and his horse "Brownie" settled down on their own 50 acre farm in the heart of the beautiful "Finger Lakes" country of up-state New York.

Tintype of John Coffer by Tom DeLooza, 2005
He began offering his, now famous, three day wet-plate collodion photography in the field workshops in the summer of 1996. Since then, to keep up with the demand, he has had to schedule steadily more workshops each year and is, also, increasingly busy with private one-an-one tutorials.
"Brownie" went on to graze in the big pasture in the sky at the ripe old age of 34.
Here are twelve reasons why "Camp Tintype" workshops are the best wet-plate collodion experience to be had anywhere:
1.
Highest student teacher ratio.
The class is limited to only four students and will be taught regardless as to any fewer than that should arrive.
2.
Students make a lot of Pictures.
Typically, a workshop student goes home with ten to a dozen or more plates. Each student will be making Tintypes, ambrotypes, glass negative, and albumen prints.
3.
Ideal span of Time.
Three days has proven to be just right for this immersion experience.
4.
The Price is Right.
Shop around and you'll see that "Camp Tintype" workshop and tutorial prices are very competitive and more so, considering you get a bigger bang for your buck!
5.
Free Camping!
Save a bundle on lodging and campout! There are on-site Teepees or bring your own tent. For the less adventerous, there are a number of B & B's and motels in the area. Also, plenty of restaurants and grocery stores.
6.
Close to photography mecca, Rochester, NY.
Camp Tintype is about 90 miles south of Rochester. Call ahead to the George Eastman House International Museum of Photography and make an appointment to see their behind the scenes collection of rare old wet-plate images and equipment, if you like. Cost is only the standard price of admission to the museum.
7.
The workshops are specifically taught, as is necessary to do the wet-plate process in the field.
Most see themselves going outside or on the road to shoot wet-plate, at some point in time. This requires a certain know-how and set of gear unlike the generally less challenging modern walk-in darkroom and studio situation other wet-plate workshops and tutorials tend to be taught in. After learning to do the process in the field and becoming comfortable with that, it is an easy transition to doing it in a studio. Not so, the other way around!
8.
Camp Tintype is laid back.
The rooster starts sounding off at about 5:30AM, but class doesn't start till about 9:00AM. All take a short lunch break at about noon (bring your own snacks and beverage) and then resumes till about 5:30PM or whenever. The class is often still talking wet-plate on into the night while roasting hot dogs and smores over the big evening campfire.
9.
Totally experienced Teacher.
John Coffer has been doing wet-plate collodion photography professionally for more than 27 years and been teaching workshops and tutorials for over fourteen years. He has had many apprentices over that time and is ultimately the teacher to the teachers of the teachers of the teachers. His personal work is well known in the art photography world, having had numerous shows of his Tintypes in some of the most prestigious galleries in New York City and the country. He has been favorably reviewed and featured in top publications such as the New York Times, The New Yorker, Village Voice, People, Wired, Aperture, and Forbes, to name a few.
You can expect plenty of patient help from John at the workshop or by correspondence afterwards.
10.
The world's best wet-plate Manual and Instructional DVD.
At a whopping 165 pages, no other contemporary manual compares! And, it comes with a 4 hour DVD set, that features the process in detail, the many equipment options, black japanning Ferrotype plates (for making authentic Tintypes on) and many other must see to appreciate vital aspects of wet-plate collodion photography. And, if that isn't enough, you receive your copy as soon as you sign up for a workshop or tutorial. It's mailed right out to you. Many get a big head start that way. No other wet-plate workshop dares to provide so much!
11.
We have TeePees for students to stay in!
As well as other 19th century-style very comfortable and fun tentage.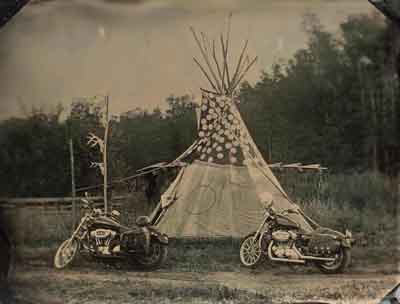 12.
Top-notch cameras and other equipment
We do not use original mid-19th century era wet-plate cameras in our workshops, but rather finely crafted, very serviceable reproductions with original wet-plate era lenses and also, and very importantly, an assortment of 20th century cameras of all shapes and sizes, adapted to doing wet-plate. You will be able to relax and not live in fear that you might harm an ultra rare fine original 1860's or 70's wet-plate camera. Actually, those cameras are so scarce now they should never be used but rather carefully preserved for future generations to study. With our repro and otherwise cameras you will be able to shoot way more plates, having nearly unrestricted mobility about the farm setting up your compositions. Yes, I know, not as sexy as being able to say you shot a couple plates through an all original wet-plate camera, but far less stressful and way more productive. You'll soon find out Camp Tintype workshops are very much about doing and not about pomp and pageantry.
Be aware, also, that there is no waiting your turn to use equipment and shoot plates. Only at Camp Tintype does each student have full-time access to a personal walk-in darkroom or field darkbox with a complete set of chemistry and accessories. All students also have their choice of numerous wet-plate dedicated or compliant cameras to freely use to set up their own compositions around the farm or in our simple skylight studio.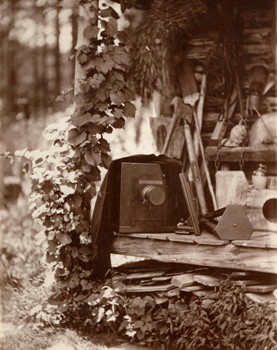 Reproduction of an 1850's 11x14 field camera with original Darlow lens.
Camera and tripod made by Tony Miller, 1998.
Image is a 5x7 albumen print by John Coffer from a 5x7 wet-plate nagative
---
Note: There are no phones or E-mail at "Camp Tintype".
Correspondence is, by preference, done by mail. Write:

John A. Coffer
"Camp Tintype"
1236 Dombroski Road
Dundee, NY 14837
---
Website updated on: 8/27/2015
For comments and suggestions regarding this website,
please send email to the Webmaster.